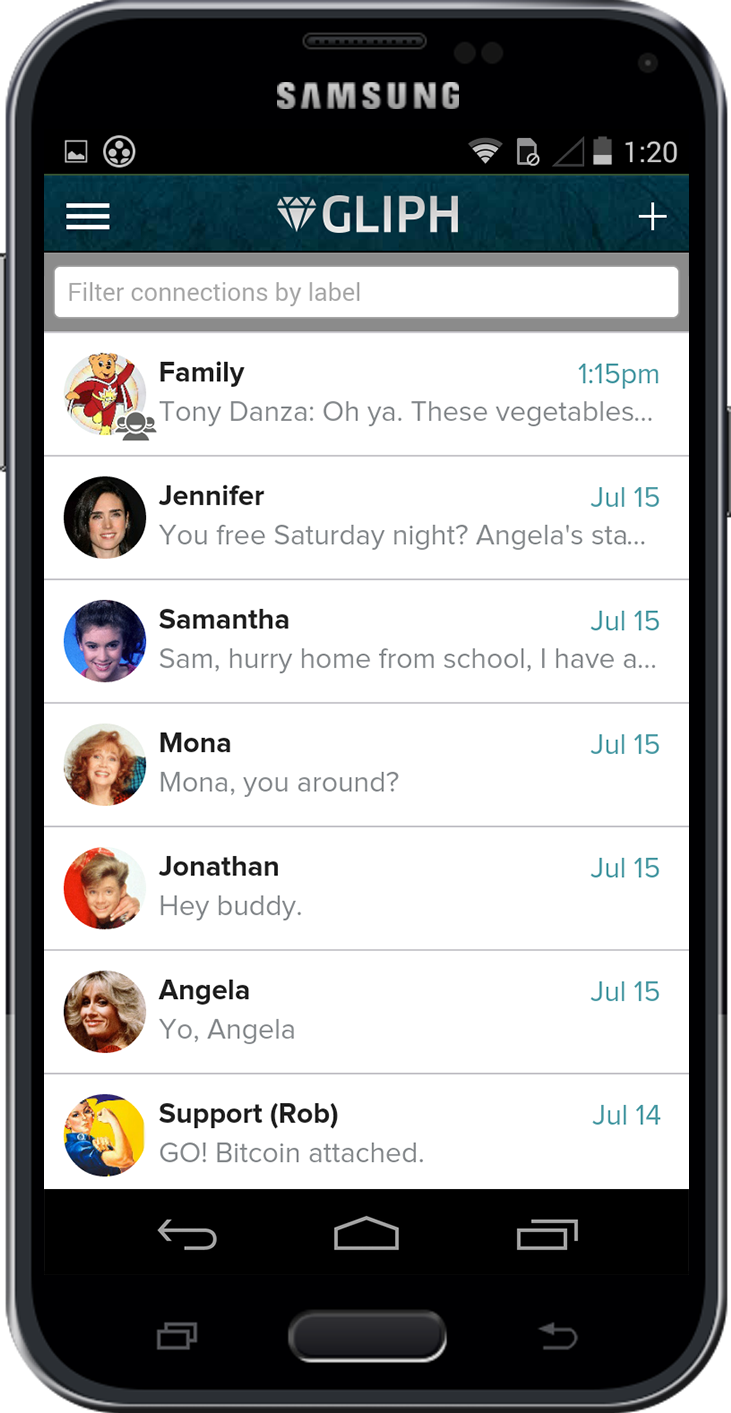 Today we've released the biggest update to the Gliph Android app yet. We're happy to announce it is now just about equal with the Gliph iPhone application in features, even goes beyond it in some cases. We want to thank all of our Android users for their patience while we brought it up to speed.
The new application is based on the new Gliph Mobile Web application, and joins the new Gliph Desktop Web and an updated Gliph iPhone application also released today.
Support for Secure Group Messaging
Gliph on Android now supports secure group messaging! You can use the app to assemble and manage your own groups from your existing contacts. You can also create a group and invite non-Gliph users to join at the time of creation. For more information about secure Group Messaging on Gliph please see this post.
Scan and Pay QR-code Bitcoin Wallet Addresses
The new Gliph Android app now allows you to transfer Bitcoin outside Gliph's network. This means that you can pay with Bitcoin at any business that accepts Bitcoin. Dell, Expedia and Newegg are just a few of the many businesses around the world that accept Bitcoin.

As before, you must attach a Coinbase or Blockchain wallet to your Gliph account in order to use the feature. You'll find it in the Bitcoin screen, which you access using the menu. Simply tap Scan in the top right corner and the Gliph Android app will guide you through completing the payment.
Profile and Group Photos
The Gliph Android app now allows you to add a Profile Photo facet and make it a part of your Gliph profile. The Profile Photo has the same privacy options as other Gliph facets, like your phone number or your name.
You can set your profile photo to Public, Private or Private and Shared with specific people or groups. If someone says they can't see your profile photo, make sure it is Public or ensure you have specifically elected to share it with that person or group.
All new users are offered the ability to set a Profile Photo, but you can do this now by visiting the menu and choosing Profile.
Refreshed Activity View

The app has a refreshed Activity View that has a new message unread indicator and includes the display of Profile photos.
Emoji Support in Most Android Keyboards
People really like their Emoji, and in this version you can now access popular Emoji characters for your messages. In order to see them, have the keyboard showing in a conversation.
Tap and hold on the Return button to reveal the Emoji button. Tap that and you will see a full selection of Emoji.
Better and New Supporting Clients
Something awesome about Gliph is it works if you're on Android, iPhone or don't even have a smartphone. So more people are able to take advantage of private and secure connections and Bitcoin transfer.
We worked hard to also improve the iPhone and create a brand new Desktop web app. Feel free to check these out so you know all the options Gliph provides. It might help you in the future if you decide to change platforms, or if you want to convince a friend to try Gliph.
Gliph offers a fantastic Desktop Web experience when you visit the app from a tablet or desktop web browser: https://gli.ph/d