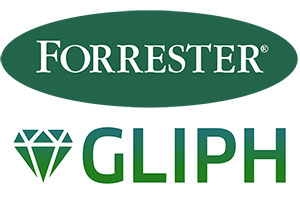 We're pleased to share that Gliph was included in a new report on Consumer Security by Forrester Research.
The report was written by Security and Risk analyst, Heidi Shey (@heidishey) and is titled: 2012 Consumer Security Market Landscape: Key Dynamics and Growth Opportunities.
The focus of the report is the changing dynamics of the consumer security market, including the proliferation of freeware and the "app internet." In the United States, the consumer security market is dominated by Symantec, McAfee and AVG.
One important note from the report is the importance of engagement in new consumer security. Previously, anti-virus software had a "set it and forget it" theme, which is just not going to cut it in the new marketplace. People expect software they install to do more.  You know, like secure picture messaging for example.
The report comes on the heals of Gliph's inclusion in a previous blog entry from Heidi titled "A chat with Trend Micro: Consumer security apps and services extend beyond security and privacy."
The report is available now for purchase or as part of a subscription to Forrester Research.