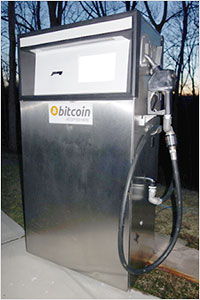 Sit back and imagine a future where you pull up to a pump and pay for your gas using Bitcoin. This vision may be closer than you think. Thermo dynamics researcher, Bitcoin enthusiast and DIY pro, Andy Schroder, has just created the world's first commercial-ready Bitcoin fuel pump.
Schroder built the machine from scratch, integrating components that would handle Bitcoin's specific requirements, offer solid uptime and work within the national standards for dispensing fuel commercially.
From a distance, Schroder's fuel pump looks like one you would find at a mom and pop style gas station; the size is a bit shorter than what you'd normally see at a 76 station today. But the small-town sentiment ends when you walk up to the machine.
The digital display on the front shows the current milli-Bitcoin-based market-rate for fuel at the time of purchase. Getting a fill-up is easy if you have a Bitcoin wallet app that can scan QR codes, (though this may be a hurdle for some folks). Once you've deposited Bitcoin and begun fueling, you'll get real-time fueling status just like you would on any other pump.
This commercially-viable Bitcoin fuel pump is actually Schroder's second attempt at integrating a Bitcoin payment-controlled liquid dispensing system. His first pump was intended to be mobile: it used a wireless internet connection and mounted to the back of a pickup truck.
Schroder's mobile project demonstrated the potential to deliver fuel or other valuable liquids to rural areas. For example, a driver could supply cooking oil to remote villages in a nation that has ubiquitous internet connectivity but lacks a reliable banking system. This (perhaps unusual) scenario today may become a more frequent occurrence if Google and Facebook are successful in delivering internet access across the globe before basic services.
As he says in his self-produced demo video, his new pump "doesn't accept cash, doesn't accept credit cards, just Bitcoin." But in an email exchange, he acknowledged the need to meet some market realities, such as accepting credit cards alongside Bitcoin: "You need backwards compatibility in order for anyone to want to use your product (particularly a large expensive piece of industrial equipment that takes up prime store real estate)."
Schroder has a variety of improvements planned for his newest fuel pump including compatibility with Biodisel (B100) fuel, offering a built-in Wi-Fi access point and alternatives to QR codes.
And while he sees some additional considerations that stand in the way of mass adoption of the Bitcoin fuel pump in its current state, Schroder believes this version is ready for a pilot today. If you're an owner of an independent, privately owned fuel station in the greater-Cincinnati area for and interested in a  test run, Schroder wants to hear from you.
In the video demo of his mobile project, Schroder describes the value of his work with a powerful point: "I think it is one step towards anchoring the purchasing power of Bitcoin to a range of physical commodities that are consumed by society regularly."
Taking Bitcoin mainstream will require the community to ease Bitcoin into the devices people interact with every day, so Andy Schroder's fuel pump seems like a great place to start.
Kudos to Andy for his continued work to research, design and implement real-world demonstrations of Bitcoin. You can learn learn more about Andy's work and get in contact by visiting his Bitcoin Fluid Dispenser project page.