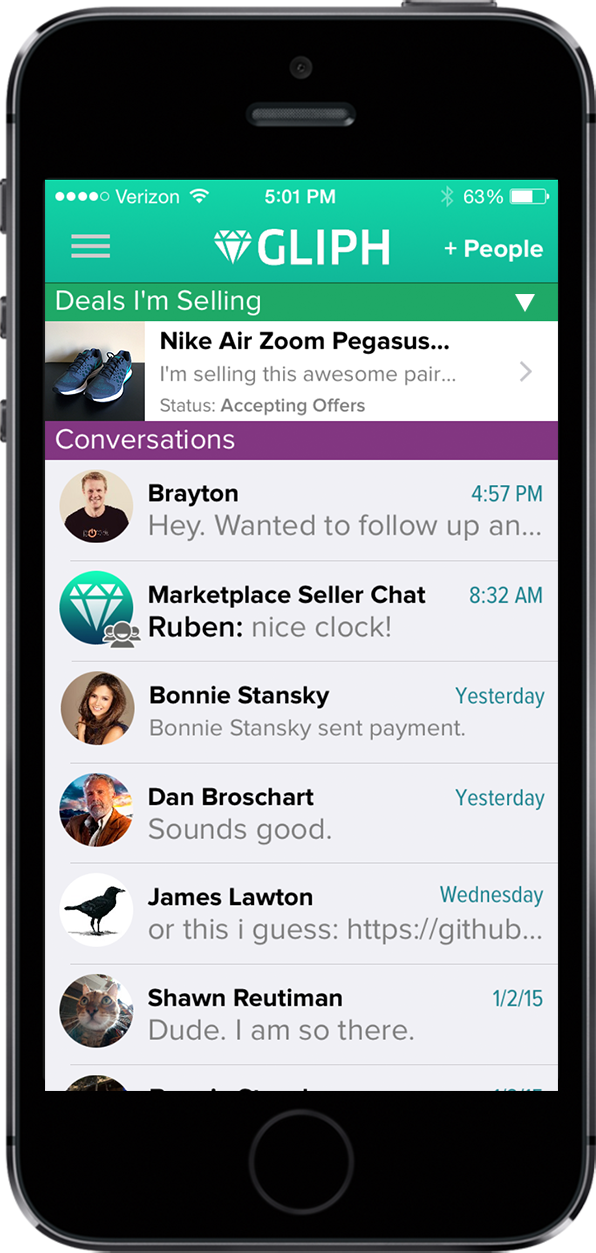 We're happy to announce the release of Gliph 2.0 for iPhone.
Gliph Marketplace
For the first time, you can now create, browse and purchase items from Gliph Marketplace from the Gliph iPhone app.
Using cash or Bitcoin to complete a P2P transaction has never been easier! You can chat directly with a buyer or seller, make an offer or leave a deal with ease. Push notifications keep you informed of deal progress.
If you want to pay or be paid in Bitcoin for a listing, just connect your Coinbase or Blockchain.info wallet to your Gliph Account. (Use Bitcoin in the menu)
Updated Activity View
Gliph for iOS 2.0 includes an updated color set and improves the usability of the app. By default, the app is brighter to look at, and +People button has been added to clarify how to add friends or create Groups.
The updated Activity view makes it easy to see items you're buying or selling in Gliph Marketplace. Listings you're actively working with are shown right above your conversations. Once you've completed or left a deal, these are moved back out of the activity view.
Dark Color Mode

In Settings you can now enable a "Dark Mode" which turns the title bar black across the entire app.
This subtle change to the look of the app may be attractive if you want to keep a low profile and aren't big on the new brighter default look of Gliph.
Note, you will need to restart the app after changing this setting for it to take effect. Continue reading →