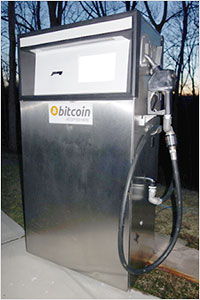 Sit back and imagine a future where you pull up to a pump and pay for your gas using Bitcoin. This vision may be closer than you think. Thermo dynamics researcher, Bitcoin enthusiast and DIY pro, Andy Schroder, has just created the world's first commercial-ready Bitcoin fuel pump.
Schroder built the machine from scratch, integrating components that would handle Bitcoin's specific requirements, offer solid uptime and work within the national standards for dispensing fuel commercially.
From a distance, Schroder's fuel pump looks like one you would find at a mom and pop style gas station; the size is a bit shorter than what you'd normally see at a 76 station today. But the small-town sentiment ends when you walk up to the machine.
The digital display on the front shows the current milli-Bitcoin-based market-rate for fuel at the time of purchase. Getting a fill-up is easy if you Continue reading →