We are super-pumped to announce Gliph for iPhone,  v1.21. We put a lot of love into this release, delivering Cloaked Email, an improved conversation view and message deletion.
Cloaked Email


Cloaked Email is an amazing new way to protect your email address from marketers and data breaches. You can use it in place of your real email address on Craigslist and other websites. Read More…
New Conversation View UX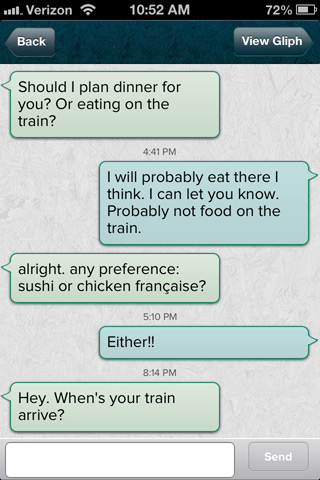 We've made some dramatic changes to Gliph messaging that we think you're going to dig.
We started by removing the tab bar from the conversation view and moving the message entry box from the top to the bottom of the screen.  We also made it so the keyboard can be dismissed with a swipe-down motion.  Pretty cool, huh?
The design of the conversation bubbles has been updated, giving some color to the conversation.
Message Deletion / Recall
Ever accidentally sent a message to someone and wished you could get rid of it?  If you're using Gliph, you can now permanently delete either your own or your conversation partner's messages at any time.
In the iPhone app, simply swipe a message left-to-right and tap the Delete button.  This will permanently remove it from your device, completely delete it from the server and remove it from the other person's device. Read More…
Login Help
You can now reset your password and get help remembering your Gliph from the iPhone app.  Not very glamorous but still important.
Introduction Slides
Gliph is a big new idea and we want the first experience on iPhone to be a good one.  We've created a short series of introductory slides that help explain how to get started with Gliph.  Normally, these are only viewable the first time you install the app, though if you're curious you can view it in the Settings menu.
Ok, so what are you waiting for? Download the Gliph iPhone App Now.