We're excited to announce a new privacy tool we've built into Gliph called Cloaked Email. Cloaked Email lets you send and receive email using your normal inbox while keeping your real email address a secret.
Click hear for Frequently Asked Questions (FAQ) about Cloaked Email
Please note: Cloaked Email does not encrypt your email. It hides your real email address from the other user and allows you to block email from unwanted senders.
How Gliph Cloaked Email Works
Cloaked Email works in any client, including Gmail and Outlook. It works with Microsoft Exchange Server mail, and with Blackberry devices.
Getting Started
1.  Begin by claiming a Gliph. If you haven't claimed a Gliph yet, here's a video that explains how to do so. If you have one and forgot either your password or your Gliph, tap Help Me on this page.
2.

 Tap the Cloaked Email button in the top left corner of the Activity View.
3.  Confirm your account's email address facet by tapping the Confirm button.  You'll need to go to your email inbox and click the confirmation link.  Once you've done that, your complimentary first cloak is unlocked as shown.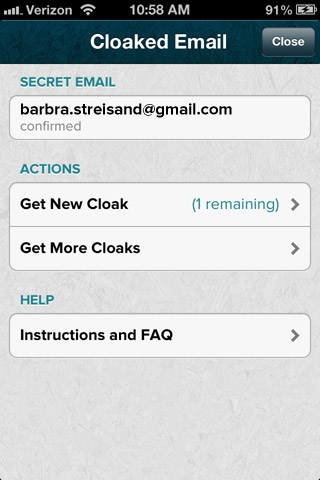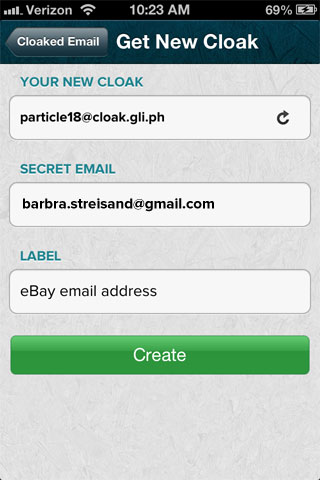 4.  Tap Get New Cloak. You can tap the circular arrow to refresh the cloak until you get one that you like. There are roughly 2000 nouns, so it's a little like "door number one, door number two or door number three," isn't it?  Fun times!
Next, add a label to your cloak.  For example, if you wanted to isolate your eBay account you might label it as shown in this screenshot.  If you want to protect your privacy on Craigslist, call it "Craigslist Cloak." Tap Create.
Using Your Cloak
Each cloak you create will have its own page that lets you change the label, send new email from the cloak, administer conversations and discard the cloak.
Give out your cloak – You can now give out your cloak to websites, services or even to retailers like Nordstrom who offer to "email you a receipt."
Send a new email from your Cloak – There are three ways to send new email from a cloak:

Use the Mobile Web, (Desktop, Android, and iPhone)
Use the iPhone app.

Get More Cloaks and Enable Attachments
If you want more cloaks, you can purchase them on the web and in the iPhone app. Read more about buying cloaks here. You can earn free cloaks by inviting people to Gliph. Your account is upgraded after after you've successfully invited five people.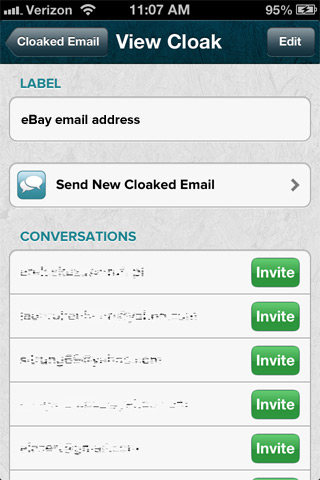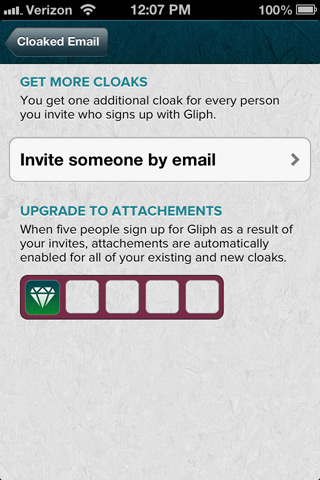 Administer Your Cloak –  As you use your cloak more and more, you'll interact with a lot of people who are not on Gliph.  Your cloak keeps track of who you've emailed with and lets you both block them (if you don't want email from them anymore) or invite them to Gliph (if you want to keep talking over Gliph Messaging).
Discard Your Cloak – Once you're ready to get rid of a cloak, you can discard it.  All new email will simply not be delivered to your account.  The email will not bounce, it just goes into a black hole.  Note that discarded cloaks are not recoverable.
Protecting Your Privacy on Craigslist
UPDATE (7/22/13): Craigslist has begun blocking Cloaked Email from their new email relay service. Please see this post for more information on how to use Cloaked Email with Craigslist.
Cloaked Email is useful for keeping your email address private when you're conducting transactions on Craigslist. You may recall that if you place an ad on that website, you can choose to display a unique, temporary anonymous Craigslist address, like abc-123456@sale.craigslist.org. Craigslist relays mail sent to this address on to your real email address.
The trouble is, when you reply to inbound mail your email address becomes visible to the recipient. Craigslist's official FAQ suggests their users handle this by registering special Yahoo! or Gmail accounts that don't include personally identifying information. Cloaked Email is a better way.
You may recall that we recently published results from a survey we conducted about privacy and anonymity on Craigslist. In question six, we asked:
"If you could have a temporary, anonymous email address that kept your regular email secret across the entire exchange, what impact would this have on your overall Craigslist experience?"
We found out that nearly 80% of respondents thought this would improve their Craigslist experience somewhat or a great amount. We looked at how we could offer this through Gliph and thus, Cloaked Email was born.
Reducing Your Exposure to Data Breaches
If you use the same password on multiple sites, you could be at serious risk if one of them is hacked. Lately, hackers are breaking into websites and stealing user data like it is going out of style.
For example, Blizzard Entertainment, makers of World of Warcraft and Starcraft recently acknowledged that customer email addresses and hashed passwords had been compromised.  In July, Yahoo! lost 453,000 email adresses (.pdf) and plaintext passwords in a hacking incident.  Both of these incidents pale compared to Sony's 2011 loss of 77 million customer email addresses.
Cloaked Email can help reduce your exposure should a data breach occur on a website or service you use.  By using one cloak per website, you can continue to enjoy the convenience of checking one inbox, yet reduce the likelihood that a hacker will be able to use your login information to attack your accounts on other websites and services.
Some Important Notes
Privacy – We do a number of things to help you reduce the likelihood of exposing your personal information while using your cloaks.  For example, whenever you get a new inbound email on a cloak, we put a note in the header of the email that warns you to use caution when you reply.You should be very careful if your email client automatically appends a signature on the bottom of your emails.  If you don't manually remove it you may accidentally expose your private information.In addition, we put a footer in your outbound emails that allows the receiver to flag your email as unwanted or spam.  We respect everyone's right to not be spammed and need to be able to investigate if a particular cloak is the source of unwanted email.
Data Handling and Encryption – We store all cloaked email addresses as HMAC-SHA1 hashes, we also store Cloaked Email addresses encrypted using the same AES-256 encryption that secures your Facet information.  We do not retain any content from emails that pass through Gliph cloaks.  Email content lives in memory and is never written to disk.  For more information about data handling on Gliph, please read our Privacy Policy.
Gliph Android App Users – A note to Android users: currently the Gliph Android application does not include Cloaked Email at this time. However, our mobile web app offers complete Cloaked Email functionality and looks terrific on Chrome for Android.
Blackberry users – You can use cloaked email to protect the privacy of the email address you check with your Blackberry smartphone. You can use our mobile website to create a Cloaked Email address and you will be able to do Craigslist from your Blackberry without giving up your personal information.
Thanks a lot for taking the time to learn about Cloaked Email.  We hope you find it as useful as we do!   You can email me (Rob, co-founder of Gliph) at revolve70@cloak.gli.ph.