UPDATE: After giving away thousands of free cloaks, this promotion has ended. Please see Introducing Cloaked Email Pro for more information.
Gliph welcomed a lot of new people with the release of Cloaked Email.  We're keeping the momentum going with some new tweaks to Cloaked Email and updates to the Gliph iPhone App.
Two Free Cloaks For Everyone
Since the launch of Cloaked Email last week, thousands of people have made Gliph a part of how they protect their privacy online.  We've been happy to hear stories of people using their cloaks to protect privacy on Craigslist, Apple Game Center and even while ordering tickets for a show in Las Vegas.
The Gliph community has also been swift to offer feedback on how we can improve. We heard people say they don't want to be forced to invite friends in order to get more cloaks. Several people wrote saying we should provide a paid alternative so they wouldn't have to ask friends to check it out.
After dozens of conversations with Gliph users on this topic and our own discussion on the Gliph team we've come to agree. As a step toward improvement we're adding two additional free cloaks to each Gliph account today. Going forward, all new Gliph users will now get three free cloaks to start.
We have big plans for Gliph and were not expecting to charge for Gliph services this early. However, between the feedback and our own need to pay startup bills, we will be adding a paid option to buy and enhance cloaks in the coming weeks. More on that when it happens.
Enabling Attachments for Received Emails
To reduce confusion and help protect against lost attachments, we've enabled attachments on emails sent to cloaks for everyone. For now, you can still upgrade to send attachments by inviting five folks to sign up for Gliph.
iPhone App Update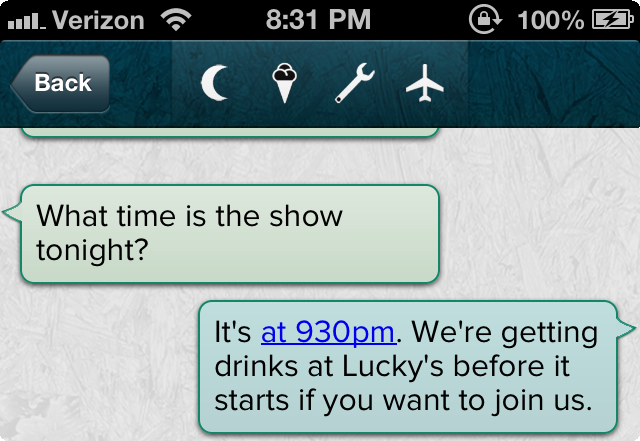 We just released version 1.22 of the Gliph app which squashes a variety of small bugs that had found their way into the app, making things generally more stable. We've also tweaked the design of the Conversation View.  The View Gliph button has been removed and now you can tap on the person's actual Gliph in the title bar to view their Gliph.
Another important part of this release is that we've added translations of our app description for Swedish, French and Japanese.  On our company blog, we also added Arabic and Hebrew descriptions. Read more about the start of our international outreach here.