The team is pleased to announce the release of GliphMe! GliphMe is a powerful little chat system that can replace email and SMS texting. It can save you time and be used to increase your privacy online.
Introduction
GliphMe lets you create a web link that anyone can use to start chatting with you on your iPhone or Android. When someone clicks one of your links and sends you a message, you will be notified by the Gliph app. You can reply immediately wherever you are from your mobile device. Gliphme is useful in a variety of cases online, and you can learn more at GliphMe's explanation page.
How GliphMe Works with Screenshots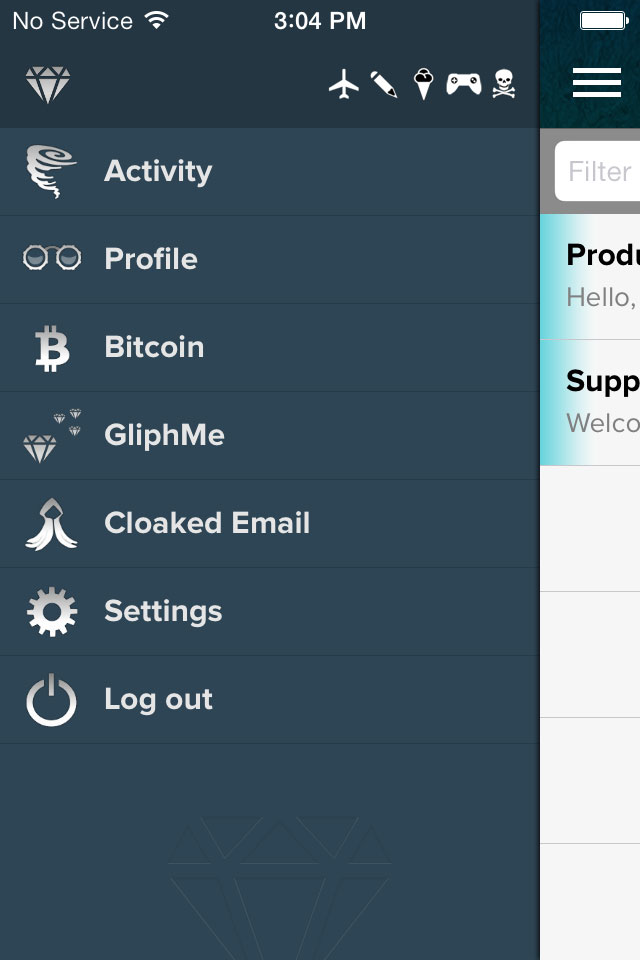 Here's how it works: You start by creating a new GliphMe link using the menu in the Gliph iPhone, Android or web app. GliphMe appears just below the Bitcoin option.
The first time you enter the GliphMe Management view, you will see you already have one link created automatically. This link is used for invitations you send from Gliph in the recently revised Connections View. You will also see that you have the option, Create new GliphMe link.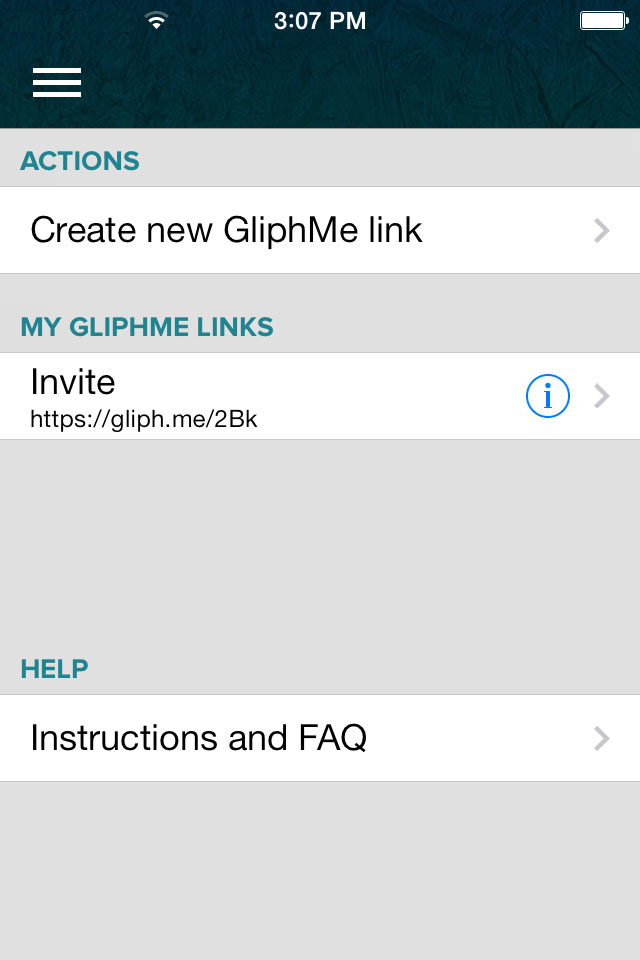 When you tap that, you're able to choose a public label for the link. This label will be shown to anyone who clicks on the link you're creating. You should choose something relatively short that describes what the GliphMe conversation is about.
Some examples include:
"Trek 4600 Mountain Bike For Sale"
"Discussion on implications of the Snowden revelations"
"Feedback on 'Jazz Hands,' the song I posted on SoundCloud"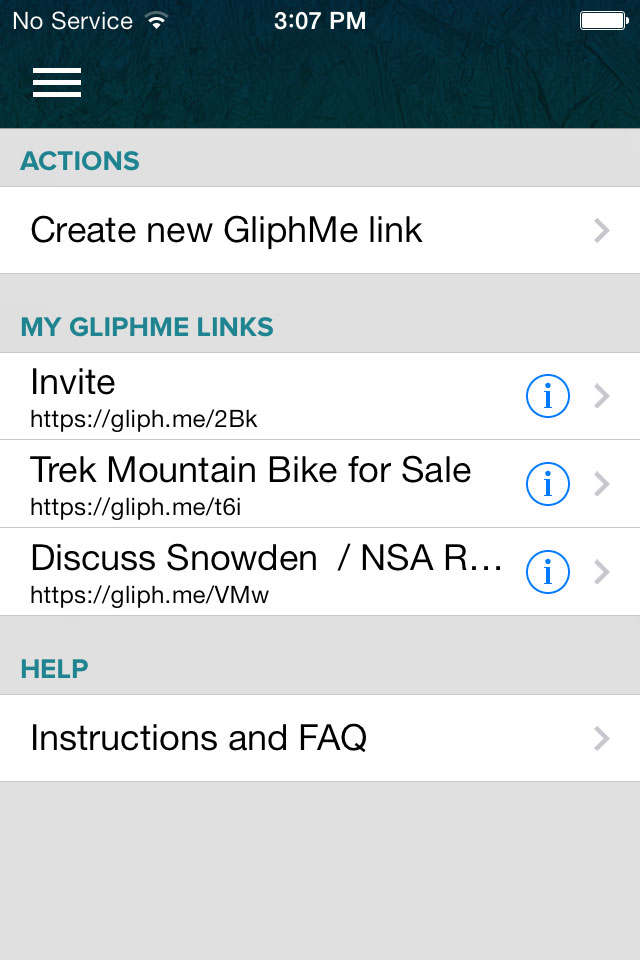 Any links you create are listed in the GliphMe management view. You can tap on the information icon to view the GliphMe Link Details view. This view lets you revise the title and also gives you the ability to disable a given link.
Sharing Your GliphMe Link
On iOS, tapping a row from the GliphMe Management view automatically copies it to your clipboard. You can paste this link just about anywhere you want to offer a new channel of realtime communication with you. Here are just a few examples where it might make sense to share a GliphMe link:
As part of a tweet. (Include the hashtag #gliphme, if you like)
In your LinkedIn profile
Over another different messaging app, such as Facebook messenger
In an online advertisement
In the signature line of your emails on Gmail.
The possibilities are nearly endless for where these links can be used, and we're interested to hear back from you on what you find most useful. Please message the Support Gliph with your feedback.
What Happens When Someone Clicks a Link
When someone clicks a GliphMe contact link they are presented a chat box that lets them communicate with the link creator. First, Gliph prompts them to enter their name or nickname and asks them to optionally enter an email address as well.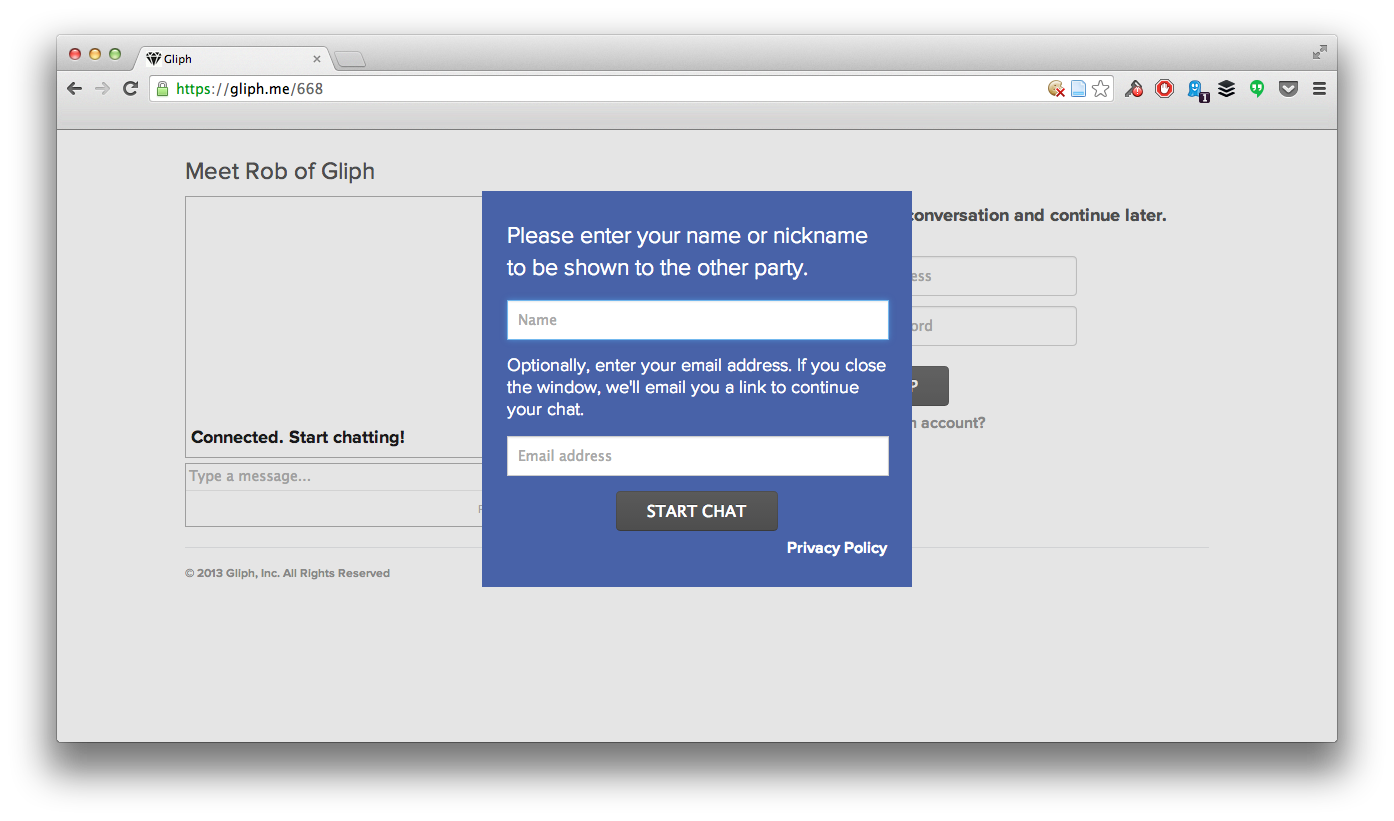 If the respondent chooses to enter their email address, Gliph will send them a link they can click to resume the conversation even if they close the browser tab or window. It will also notify them 24 hours before the conversation is immediately deleted.
After they click or tap Start Chat, Gliph presents them with the following chat box: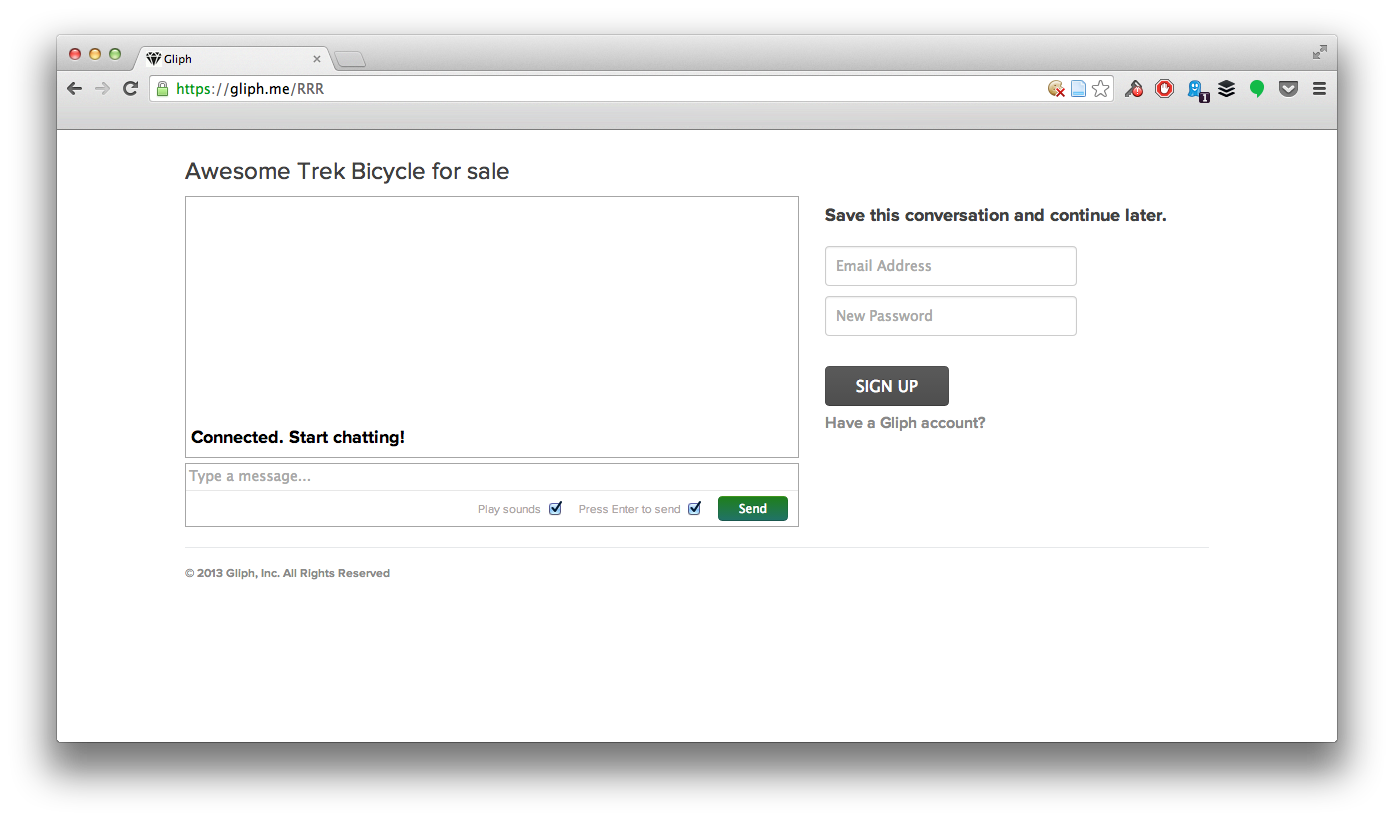 When they type their first message in and send it, you, the creator, will get a push notification on your smartphone.
If you open the push notification, you'll be taken to a typical Gliph Messaging Conversation view.  You'll won't be able to send photos to them, delay messages or attach Bitcoin until they sign up and solidify the Connection with you.
Respondents Coming from the Mobile Web
This tutorial showed screenshots of what it looks like when the respondent is coming in from the desktop web. GliphMe also works if someone taps a link on their smartphone. They are presented with a chat box in their mobile browser and can sign up and claim the conversation just the same as desktop users.
How Privacy and Connections are Handled in GliphMe
There are two sides to GliphMe links. The creator of the link, (who is a Gliph user already), and the respondent, who is probably not yet a Gliph user.
As a creator, when you get a message from a respondent, you are not connected at first. Even though you are chatting, Gliph does not display your gliph to the other user. None of your facets, (public or private), are shown in the GliphMe chat window the respondent sees.
The GliphMe chat webpage provides a sign up form that allows the respondent to continue a conversation with the link creator. If they sign up, Gliph automatically turns the conversation into a full Gliph Connection. This conversation will be the first they see in the Activity view when they first sign into the app.  At that time they will be able to see your Gliph and any public-facing facets.
Gliph automatically deletes conversations where the respondent does continue it by creating an account within 48 hours after they sent their first message to the creator. GliphMe conversation deletion follows the same rules as normal Gliph Messaging: the conversation is permanently removed from Gliph's servers and not recoverable.
The reasoning for this auto-deletion is two-fold: one it reduces clutter in your activity view of conversations with people you don't continue to stay in contact with and two it encourages new people to sign up for Gliph. (We believe the Gliph platform will be more useful with more people on it, so it is natural for the team to want to encourage new people to sign up.)
You can still delete a connection that is created when a respondent to one of your GliphMe links signs up and claims the conversation. Same rules apply to "normally" created connections, all previous messages between you and the respondent are deleted.
Caveats and Additional Information
GliphMe has some limitations. If the respondent to one of your GliphMe links is already a Gliph user, we can't automatically convert that into a conversation between you two. What we recommend at this point, is that you ask that person what their Gliph is, and use the normal new connection capability in the Gliph Connect View.  (The little + button in the title bar of the Activity view)
You can delete a GliphMe link on iOS by swiping the link to the left and then tapping the Delete button. You can disable a GliphMe link without deleting it, by tapping the "i" and then flipping the Active toggle.
Conclusion
We're excited about how the GliphMe link can be used to improve private and secure communications across the internet. We hope you'll share some of your feedback on the new feature by sending us a message using the Support Gliph.